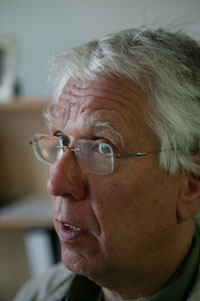 Big labels are f*cked, and DRM is dead
Few people know the music industry better than Peter Jenner. Pink Floyd's first manager, who subsequently managed Syd Barrett's solo career, Jenner has also looked after T.Rex, The Clash, Ian Dury, Disposable Heroes and Billy Bragg – who he manages today. He's also secretary general of the International Music Managers Forum. And he doesn't pull his punches. The major four music labels today are "fucked", he says. Digital music pricing has been a scam where the consumer pays for manufacturing, distribution, and does all the work – and still has to pay more. Labels should outsource everything except finance and licensing.
The undertaker is measuring the Big Four record labels for a wooden overcoat
Tunecore is playing a dangerous game. They are a music publishing service operating at minimal costs, and they have contracts with iTunes and Rhapsody allowing artists to sell their music on two of the most powerful music sellers.
"Let's give away the ProTools files on MySpace. Vocals, guitars, drums, and bass. We'll let the fans make their own mixes." The room falls quiet.
Cingular: Giving Away the (Music) Store
The cell-phone carrier's new mobile music strategy allows users to download songs to handsets at no charge—but players are a different story
A bigger bang – The Guardian on Web 2.0
The second internet goldrush is in full swing, and this time it's all about real people, creating, editing and showcasing their own lives and opinions. John Lanchester gets to grips with the virtual universe and Guardian writers interview the smartest and the luckiest entrepreneurs who demolished the old internet and built a brand new one.