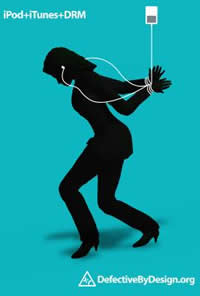 I think everybody can now agree that copy protection and digital rights management is bad for consumers. Most content owners and copyright holders will admit that much. However I encounter an astonishing number of independent artists and record labels who genuinely believe that it is in their best interests to put copy protection on the music they sell and distribute online.
Nothing could be further from the truth.

There is no DRM that cannot easily be cracked. While you might imagine that it will at least provide a disincentive for the average consumer to attempt to copy your work, in fact once the DRM has been cracked on any media file, it is then made instantly available on any number of filesharing networks across the Internet.
So, by selling a product that can only be used in limited ways, you are not only competing with a free version of your own product, you are trying to do so using an inferior product.
If you decide that Windows media files rather than MP3s are the way to sell your music on the Internet because of the "protection" they afford your music, then as soon as your consumer realises that they can't listen to your songs on their iPod, they will seek out an alternative version. Having paid for your content will provide them with the sense of entitlement and the incentive to seek out another version of your product that can be used in the ways that they originally intended when they gave you money.
Of course, once your consumer has downloaded the file sharing software and learned how to use it, and they do a search on your artist, they discover that not only is the album that they purchased readily available for free, but so also is everything else you have ever released. Since they're going to be ending up back there anyway, why not cut out the expensive and frustrating middleman who sold them faulty goods in the first place?
The simple fact is this: unencrypted MP3 is the format of choice for everyone who uses digital music. It can be played on any device, using any software and is easily transferred to be played in the car, the laptop, or any other use to which the person who paid for it would wish to use it.
It's a very simple idea, but it is one that seems to be missed by an astonishing number of people whose ambition is to make a living by selling music on the Internet. You're smarter than that.
For more on this idea, I strongly recommend that you listen to this presentation by Fred von Lohmann, head intellectual property lawyer at the Electronic Frontier Foundation, who discussed 'Cyberlaw and Cyberliberty' at Cory Doctorow's U.S. – Canada Fulbright Scholar Speaker Series on Tuesday this week. It's interesting, entertaining, easy to follow — and will give you a much better and deeper understanding of these issues.
There are only a handful of lawyers in the world who can match Lohmann's expertise in cyber law, and he is on the speed dial of reporters, public interest organizations, and even senior counsel, at companies like Google and Microsoft. Lohmann has been associated with the Berkeley Center on Law and Technology, and he previously worked the IP beat for the giant white-shoe firm of Morrison & Foerster LLP. Lohmann also was involved in the high profile MGM v. Grokster case. He served as counsel to StreamCast Networks beginning in 2001, argued the appeal at the Ninth Circuit Court of Appeals, and continued as counsel through the Supreme Court appeal in 2005. Lohmann has appeared on CNN, CNBC, ABC's Good Morning America, The NewsHour with Jim Lehrer, and Fox News O'Reilly Factor, and he has been widely quoted in a variety of national publications.
You can download an mp3 of the talk, subscribe to the podcast in iTunes, or play it straight from the page.